One of the most exciting bulk freight developments to watch in the new year will be the outcome of a feasibility study by Zambia's NorthWest Rail (NWR) operator and two of its private sector partners to build a new Copperbelt rail link of 166 kilometres south of the DRC border.
Depending on the outcome of the study, NWR, British rail and telecoms company Uroven, and Smart Operations, a division of Swiss-based rail investor Transmasholding, will extend the existing North-South Corridor line from Chingola further west to Solwezi, Zambia's copper-mining nerve centre.
That's only the first phase of a three-tier project.
Also in the pipeline is extending a rail link to Kalumbila, halfway between Solwezi and Zambia's border with Angola
A third link from Kalumbila to the border will herald the completion of the three-phase project, with the ultimate aim being to link up the east-west line with the Benguela railway from the Port of Lobito to Luau on Angola's border with the DRC.
The project is a clear indication of Zambia's intention to move bulk freight from road to rail – 30% initially – and also serves to support speculation coming out of sub-Saharan logistics circles that the Benguela Corridor will most likely emerge as a favourite for copper exports and backhaul imports through Lobito.
Apart from its own Copperbelt freight interests, Zambia is also keen on leveraging off DRC demand for alternative trade lanes out of Haut Katanga province, the location of its own copper mines north of the Zambian border.
Currently DRC copper from mines at Kolwezi is trucked out south east towards the pedicle from which point shipments make their way through various corridors to leading ports around the southern African coastline.
Lobito though is the closest port to Kolwezi (1 626kms), with the Port of Beira being the nearest rival – 1 907 kms.
Unfortunately the DRC's road and railway infrastructure to Dilolo east of Luau is antiquated and structurally unsound.
Little wonder then that Zambia, as part of its Copperbelt logistics ambitions, has upgraded the road north-east from Solwezi to Kipushi south-west of Lubumbashi, the capital of Haut Katanga.
With a new freight terminal at Solwezi, it has every intention to offer DRC copper a shorter way out that, for the time being, could be a lot less costly than upgrading the outdated line from Kolwezi to Dilolo.
The NWR also appears to pre-empt such an infrastructural project in the DRC that, many believe, is unfeasible at this stage.
Should the old line be reengineered though, it could very well scupper Zambia's intentions to become a logistics alternative for copper shipments out via Angola.
And although it all sounds speculative, the Chingola extension by NWR and its partners supports the idea that Zambia has its sights set on linking up with the line from Luau to Lobito.
Further proof that the Benguela Corridor could emerge as a preferred trade lane for shipments in and out of the Copperbelt can be seen in the Walvis Bay Corridor Group's marketing drive to revitalise the Kunene Corridor going north from Namibia into southern Angola.
Speaking to Freight News yesterday, Duncan Bonnett, director at trade consultancy Africa House, also identified Lobito as one of the ports to watch in the near future.
"The people we're talking to are favouring that corridor and we expect to see a lot more freight from the Copperbelt going out that way, with supplies and backhaul goods coming back in via Lobito," he said.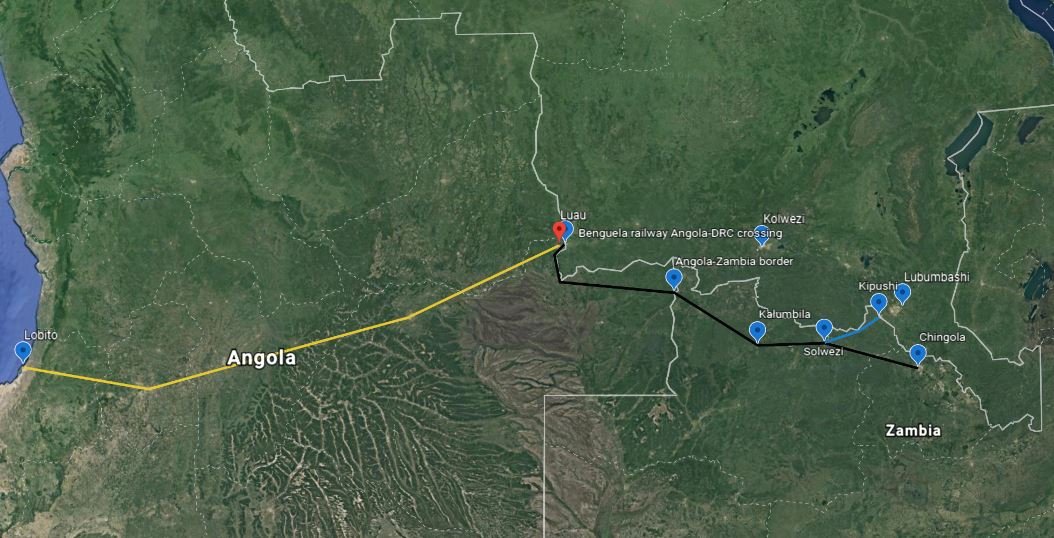 Blue line: upgraded road from Solwezi in Zambia to Lubumbashi in DRC.
Black line: envisioned rail freight extensions from Chingola to Solwezi (phase one), Solwezi to Kalumbila (phase two), Kalumbila to Angolan border (phase three).
Yellow line: Benguela Corridor to the Port of Lobito.