Transnet Port Terminals (TPT) has announced that four new-generation straddle carriers delivered in parts to the Cape Town Container Terminal (CTCT) at the onset of the coronavirus pandemic have been handed over to operations.
Once assembled the units were tested over 100 hours prior to the hand-over.
Erecting the carriers took some straddling of Covid-19 divides created between key personnel.
"Assembling of the carriers follows South African resources successfully taking on the responsibility previously assigned to Polish engineers in a bid to reduce delays caused by travel restrictions under lockdown rules," Transnet said.
TPT added that CTCT was predominantly operated by rubber-tyre gantry (RTG) cranes and the acquisition of the straddle carriers was largely part of a wind recovery strategy to mitigate against strong winds.
"The straddle carriers can work through wind speeds of up to 90km/h compared to 72km/h on RTGs."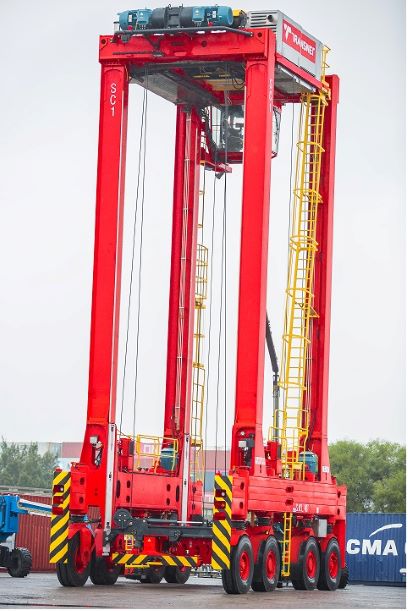 According to acting general manager Oscar Borchards: "The terminal was at one point operating at 60% capacity due to Covid-19 infections. Having world-class equipment and dedicated, skilled operators during challenging conditions is a winning combination."
TPT emphasised that the straddles complemented an existing terminal fleet of equipment largely servicing the agricultural industry, with containerised cargo moving across trade markets like Asia, Europe, America, Australia and East and West Africa.
"The hand-over to operations comes at a time when the terminal is preparing for a full peak season starting in November, and we are confident of improved performance," said Borchards.  
 The R71-million investment forms part of TPT's R2-billion equipment replacement drive in the current calendar year.