Tempers flared between truckers and traffic officials south of Beitbridge where video footage has emerged of irate drivers reacting to law enforcement officials accused of 'escorting' trucks to the front of a queue caused by Covid testing.
With trucks on the north-bound line stuck for days waiting to crawl through a notoriously problematic border, squeezed hard by Zimbabwe's decision to implement a dusk-to-dawn 12-hour curfew, allegations have emerged of officers taking bribes to bump trucks to the front of the queue.
Bribes can vary from R500 to R1000 - and with the queue not getting any shorter, stretching all the way to Musina, corrupt cops are having a field day 'supplementing' their income.
But truckers unprepared to pay bribes have had enough.
A regular source who requested anonymity said some drivers were beginning to pull out of the queue, blocking the path of trucks getting escorted to the border.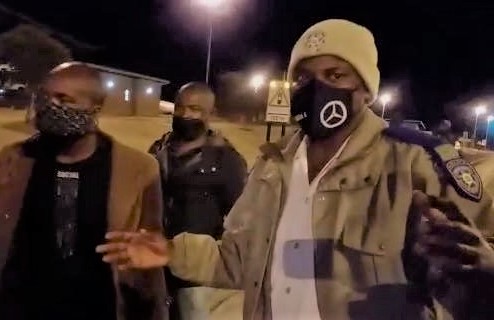 In video footage shared with Freight News, angry drivers are asking traffic officers (photo above) that a certain truck be sent to the back of the queue.
Amid much shouting and strident waving of arms at a GP-registration truck clearly passing another, the source explained that the commotion was about drivers saying that the truck should go back to the end of the queue.
"They want to know why the officers are escorting him while they have been sitting in the back of the queue for three to four days.
"They are saying police are just escorting trucks that are paying to jump the queue and that they have had enough as they are not moving and will block the road if they keep doing this."
The footage seen is also not an isolated incident.
Similar incidents have been seen elsewhere on social media - and although South African authorities are saying they are doing whatever they can to root out corruption, it clearly is their very own members that are committing the bribery.
Said a clearing agent (*) stationed in Musina: "Bribery has become endemic on our borders. Wherever there are issues you'll find that someone's on the take."
(*) Although the agent did not request anonymity, Freight News took an editorial decision not to disclose the person's identity and professional affiliation as border authorities are complaining of "negative reporting". Both sources are respected members of the freight community, are well known to Freight News, and specialise in the North South Corridor in and out of the copper mining areas of Zambia and the DRC.
WATCH: https://youtu.be/KAPtBsmLPLg