After an extensive analysis of the agreement establishing the African Continental Free Trade Area, namely Schedule 10, Part 8, it is evident that there is a large contingent of goods that will enjoy preferential rates of duty, obviously subject to meeting the respective State parties' legislative provisions insofar as rules of origin, qualifying criteria etc are concerned.
It is imperative to ensure that manufacturing of these goods within the African continent is stepped up. There needs to be a paradigm shift from the current trade pattern which some may consider as one that is "dependent" on countries that could easily influence our economies to one that is now more independently intra-African. One of the key contributors to this transformation is, therefore, increasing our manufacturing capabilities on the continent.
The AfCFTA agreement will invariably attract foreign direct investment (FDI) to our continent, but governments need to be cautious. While we should welcome FDI, it is also essential to try as far as possible to encourage African start-ups in the manufacturing sector to meet one of the main aims of the agreement, namely bringing together over 1.3 billion people in a $3.4-trillion economic bloc - the largest economic bloc established since the creation of the World Trade Organization. If there is to be an FDI agreement, it must result in employment of an almost entirely local workforce.  
It may be argued that we do not have enough skilled employees. However, we are fortunate to have a young, rapidly urbanising population.  It is this same population whose skills must be developed now to meet the growing demand of tomorrow that will come naturally with the wave of employment opportunities created as a by-product of the AfCFTA agreement. Skills in freight forwarding, customs compliance and diverse manufacturing and international trade arenas must be well developed to ensure that the aim of empowering an African economy through the employment of skilled youth is then realised.  
A vacuum therefore needs to be created to absorb this skilled workforce and that vacuum is the manufacturing and logistics sector. Once we have reached a level where almost all of the 97% of goods that qualify for preferential rates of duty are being completely manufactured in Africa, we can celebrate the true success of this trade bloc. Our continent can ill afford an unskilled workforce. Manufacturing and industrialisation is a critical and crucial component of building a solid and prosperous African economy.  
Governments need to continue to encourage and support current or emerging SMMEs to start up, or where already existing, as the case may be, further develop in the manufacturing and logistics sector. The AfCFTA undoubtedly provides an excellent platform to promote the liberalisation of markets and drive transformation. We are cognisant of the fact that the full implementation of this historic agreement will take a few years to roll out, however, it must be appreciated that proactive participation and consistent engagement of all stakeholders are crucial to ensure the true benefit of this agreement. 
South African businesses that currently supply goods on a domestic level should take full advantage of the non-tariff barriers and preferential rates of duty to expand their businesses to an intercontinental level. South African farmers, for example, can now enjoy access to a wider range of African markets through imports from our neighbouring countries which would now become substantially less expensive.
Manufacturing is currently the fourth-largest industry in South Africa, contributing 14% to the gross domestic product (GDP). The food and beverages division is the most important player in the industry, contributing 25% to total manufacturing activity. It is evident below that manufacturing has declined substantially in several industries.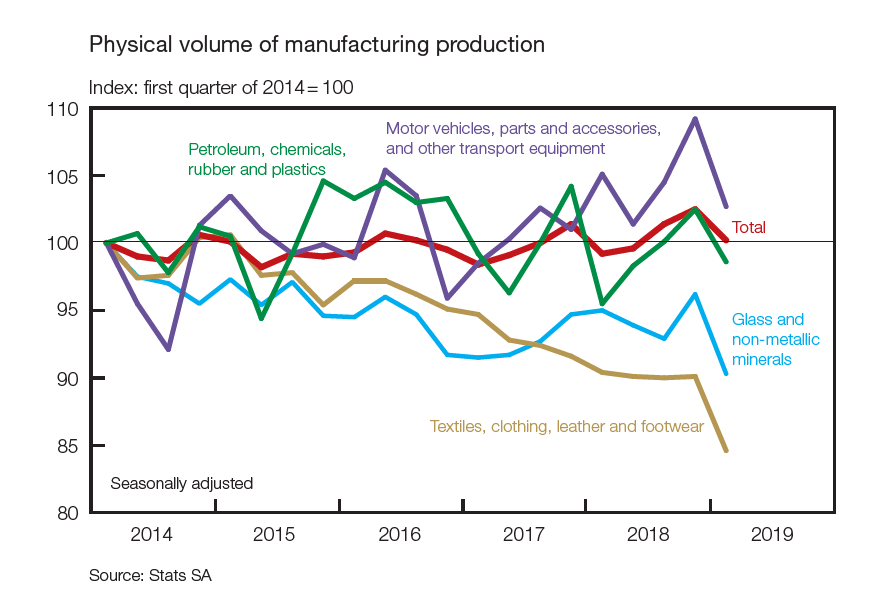 Manufacturing production decreased by 3.5% in November 2020 compared year-on-year with November 2019. The largest contributions were made by the following divisions:
 petroleum, chemical products, rubber and plastic products (-9.6% and contributing -2.1 percentage points);
 food and beverages (-2.9% and contributing -0.9 of a percentage point); and
 basic iron and steel, non-ferrous metal products, metal products and machinery (-3.9% and contributing -0.7 of a percentage point)
Seasonally adjusted manufacturing production decreased by 1.3% in November 2020 compared with October 2020. This followed month-on-month changes of 3.2% in October 2020 and 2.8% in September 2020
Several programmes must be implemented to ensure the creation and sustenance of manufacturing companies. State parties will benefit immensely from local and intercontinental economic growth if manufacturing and industrialisation are driven within their respective countries. To ensure prosperity and revenue generation from manufacturing activities there has to be a strong demand created and this can easily be achieved through export promotion schemes and incentives. South Africa should aim to be amongst the leading AfCFTA exporting state parties and we therefore all need to get involved in some way or the other toward mobilising and manufacturing, pun intended, an African solution!