The Federation of East and Southern African Road Transport Association (Fesarta) has expressed its strongest possible objection to the supposed tolerance for truck burning and destruction of property by service delivery protesters.
This after a chrome truck was set alight in the Delmas area earlier this week, allegedly by arsonists participating in a service delivery protest.
"It seems to have become a ritual on our roads," said Fesarta chief executive Mike Fitzmaurice, "with little being done about it."
At the time Freight News spoke to him about the incident, he said that there had been no response from authorities as far as Fesarta knew.
Luckily the driver of the rig escaped injury.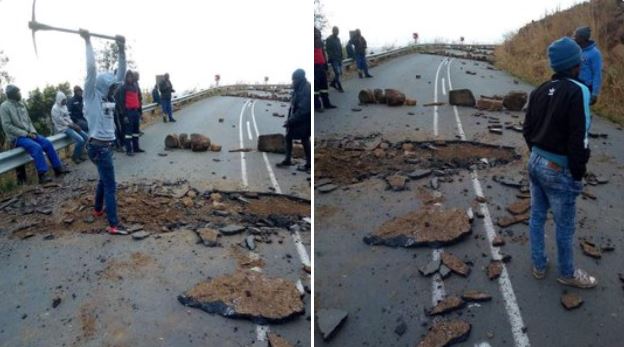 Fitzmaurice though emphasised the senselessness of the attack, saying: "It's a chrome truck.  There's nothing they can do with the load.
"But it seems whenever protesters see trucks on our roads these days they burn them."
Meanwhile protesters have also embarked on a new method of adding destruction to their disgruntlement about service delivery and unemployment after people were photographed digging up tarmac on a main road in KwaZulu-Natal.
In the photos men with pickaxes can be seen hacking holes in a tarred road in the eBhovini area between Dundee and Pomeroy.
The destruction of the road took place near a bend on an incline, presumably on the R33.
"It's shocking how this seems to be allowed," Fitzmaurice said.
"That road is now impassable. Lately it seems everything gets accepted."